The Keikyu Group Basic Environmental Policy
We endeavor to preserve the global environment, reduce our environmental impact through our business and social contribution activities, and contribute to the realization of a society that can develop sustainably.
We endeavor to make further improvements to convenience and to create appealing value along our railways, with a focus on providing environmentally friendly public transportation.
We endeavor to reduce our impact on the environment through the effective use of resources and energy, as well as initiatives to reduce, reuse, and recycle waste.
We endeavor to coexist with and preserve the rich natural environment along our railway lines so that our children, who will lead the next generation, inherit a better environment surrounding the railway.
We place value on communication with all of our stakeholders, and endeavor to cooperate and work together with local communities.
We endeavor to correctly comprehend and comply with environmental laws and regulations and to improve the environmental awareness of all of our employees through awareness campaigns and educational activities.
Endorsement of Task Force on Climate-related Financial Disclosures (TCFD) Recommendations
ESG initiatives, in our view, form the foundation of business management. Accordingly, we have established key performance indicators (KPIs) with the aim of curbing the greenhouse gas (GHG) emissions generated by our business activities. In addition, on November 11, 2021, Keikyu announced its endorsement of the recommendations of the Task Force on Climate-related Financial Disclosures (TCFD), established by the Financial Stability Board with a view to realizing a carbon-free society. Going forward, we will disclose climate-related financial information in accordance with TCFD recommendations.

Environmental burden data, environmental accounting
Environmental burden data (FY2020)
Energy and resources are essential for the operation of railways and the conduct of business activities, and these activities produce waste, including CO2 and other substances that cause global warming. The Keikyu Group quantitatively analyzes and strives to reduce the environmental impact of its business activities.
Energy Input
FY2020
FY2019
Total volume of thermal energy
3,262,455 GJ
4,287,423 GJ
• Electricity
1,297,042 GJ
1,436,788 GJ
• Light oil
731,204 GJ
958,957 GJ
• Gasoline
240,531 GJ
476,402 GJ
• Type A heavy oil
11,352 GJ
19,048 GJ
• LPG
115,049 GJ
165,022 GJ
• LNG
314 GJ
1,634 GJ
• City gas
845,372 GJ
1,207,868 GJ
• Other(kerosene)
8,879 GJ
15,758 GJ
• Steam, cold water
12,707 GJ
5,946 GJ
Water usage
2,370,651 t
3,167,085 t
Copy paper purchased by offices
166 t
217 t

Emissions
FY2020
FY2019
GHG
281,182 tCO2
351,031 tCO2
• Scope 1
121,609 tCO2
178,034 tCO2
• Scope 2
159,574 tCO2
172,998 tCO2
Waste
• Industrial
14,248 t
80,040 t
• General
9,640 t
15,097 t
Volume recycled
4,792 t
6,179 t
Percentage recycled
49.70%
40.90%
*

The scope of calculations is the consolidated Keikyu Group.

*

The period covered is from April 1, 2020, to March 31, 2021.

*

Reference: List of calculation methods and emission factors in calculations, reports, and publication systems, Greenhouse Gas Emissions Calculation and Reporting Manual, Ministry of the Environment

*

In fiscal 2020, total energy usage decreased due to lower facility utilization, which resulted from the suspension of operations at stores and other facilities in response to the COVID-19 pandemic.
Nonconsolidated environmental accounting
Environmental accounting is a system for recognizing the costs incurred as a result of environmental preservation activities as well as the effects of such activities. Environmental accounting also provides a framework for measuring and communicating this information as quantitatively as possible.
We have been using environmental accounting since fiscal 2008.
(Unit: thousand yen)

Classification
Capital investment
Costs
Business area costs
Pollution prevention costs
Prevention of air, water, and soil pollution, prevention of noise and vibrations, others
1,294,610
1,100,601
Global environment preservation costs
Prevention of global warming, preservation of the ozone layer
2,362,024
9,350
Resource recycling costs
Water, general waste disposal costs, waste disposal costs
576,750
1,382,608
Subtotal
4,233,384
2,492,559
Management activities costs
Management activitiy costs
Greenification of business facilities, disclosure of environmental information, etc.
-
44,360
Community activity costs
Participation in community activities, donations, etc.
6,700
41,997
Subtotal
6,700
86,357
Total
4,240,084
2,578,916
Basic Elements of Environmental Accounting
The scope of calculations is Keikyu Corporation on a nonconsolidated basis.
Figures of less than ¥1,000 have been rounded.
The period covered is from April 1, 2020, to March 31, 2021.
Only initiatives that can be reliably identified are included in the environmental accounting.
Calculations are based on the 2008 edition of the Private Railway Business Environmental Accounting Guidelines.
Depreciation has not been included in the costs.
Environmental initiatives
Efficient use of resources and energy (realization of a low-carbon society)
Promoting the introduction of energy-saving vehicles
By FY2010, all of our trains adopted regenerative brakes to improve energy efficiency. Electricity generated when brakes are applied on a train is fed back to the overhead lines, to power other trains.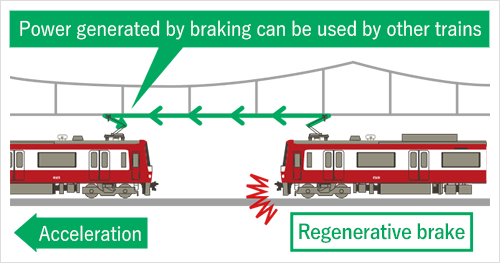 Initiatives to Reduce Our Environmental Footprint
Our railway operations are introducing new, outstanding energy-saving railcars. By 2010, we had discontinued traditional resistance-control railcars, and all of our railcars had been equipped with energy-saving regenerative brakes.
In 1990, we began using a variable voltage variable frequency (VVVF) control system, which is more efficient in regenerating electricity than a field chopper control system. The aforementioned initiatives have reduced electricity consumption by about 30.0%.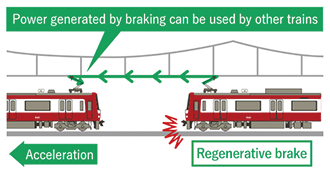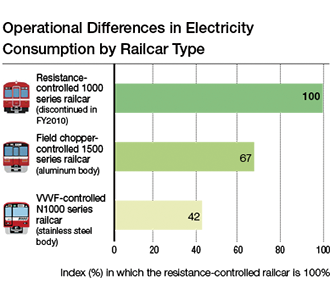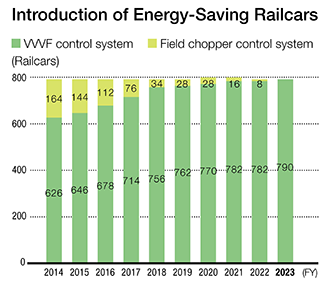 | (FY) | For railway operation (million kWh) | For auxiliary use (million kWh) | Energy intensity (kWh/vehicle-km) |
| --- | --- | --- | --- |
| 2010 | 211 | 48.5 | 1.934 |
| 2011 | 202 | 40.5 | 1.866 |
| 2012 | 205 | 42.5 | 1.839 |
| 2013 | 208 | 44.1 | 1.814 |
| 2014 | 201 | 44.1 | 1.747 |
| 2015 | 198 | 44.1 | 1.711 |
| 2016 | 199 | 44.0 | 1.707 |
| 2017 | 196 | 43.5 | 1.684 |
| 2018 | 191 | 44.0 | 1.640 |
| 2019 | 185 | 44.0 | 1.595 |
| 2020 | 181 | 43.0 | 1.555 |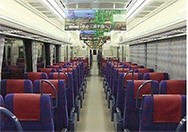 Introduction of thin-film solar power generation systems
Introduction of vehicles using LED lighting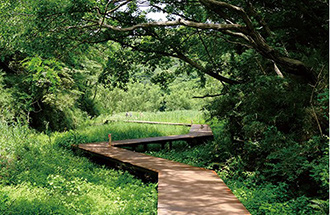 Promotion of EV (electric vehicles)
Introduction of hybrid buses
"Reduce, reuse, recycle" for waste products
Reduced volume of cans and plastic bottles
Promotion of the use of public transport
Harmonious coexistence with nature/preservation of the environment
Support the natural environment conservation project for the "Koajiro Forest"